Tuition exemption
Students who are recognized as having difficulty in paying tuition due to economic reasons and are recognized as having outstanding academic capabilities may be exempted from part of the tuition.
Admission fee and regular tuition fee 
• Admission fee: 282,000 yen
• Tuition fee: 535,800 yen / per year
Student Residence Halls
Accommodation in the student residence hall is available if desired. If a student taking admission in BPGI wishes to reside in a student dormitory, he or she will generally live in the Global Village, which started its operation in April 2017. The monthly rent is 35,800 Yen (as of September 1, 2017), and a security deposit (when moving-in) and utility costs are required separately.
                           Room                                                   Shared LDK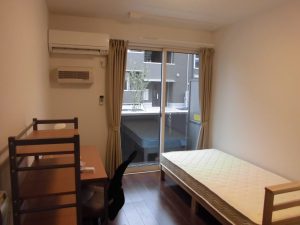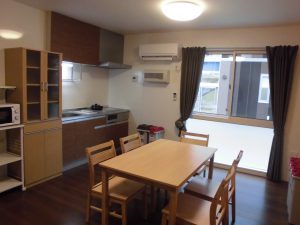 Estimated monthly living expenses
Total: 100,000yen (Example budget)
(Break down) •Housing expenses: 20,000-50,000 yen •Food expenses: 30,000 yen •Educational materials expenses: 10,000 yen •Communication expenses: 5,000 yen •Incidental expenses: 5,000-10,000 yen
Note 1: To take classes at the International Christian University during the spring semester of the first year, students will live in dormitories or nearby apartments of the International Christian University. The monthly rent will be approximately 70,000 to 100,000 yen per month. There may also be a dormitory admission fee, utility costs and other fees. In addition, moving costs will apply at the time of relocation.
Note 2: For students in their second year and third year, transportation expenses to training venues (approximately 30,000 to 50,000 yen per year) are needed in order to have exercises off-campus.
Tutorial System
To ensure that students, who have never lived in Japan before, live and study in comfort, tutors are available to provide individual support for a certain number of hours.